Maximum Space
Our over-sized units at Maximum Storage in Colorado Springs, CO can accommodate everything from vehicles to the contents of a large home. Perfect for customers in transition or those looking for extra space to accomodate their surplus.
Let us help you find the perfect storage unit for your needs.
Perfect For Small Businesses
Is your business growing? Need a place to store your equipment or inventory? Maximum Storage serves many different types of small businesses in the Colorado Springs community.
Give us a call to see how we can support your business success.
State Of The Art Security
Maximum Storage is serious about security. We want our customers to feel safe inside our Colorado Springs, CO storage facility day or night and have the peace of mind knowing that their valuable possessions are fully protected. We provide 24 hour video surveillance across the entire facility and key pad or smart phone gate access controls.
Come and take a tour of our facility and we'll show you our cameras.
Packing Supplies & Tenant Insurance
We offer all the supplies you could need to make moving and packing easier. Boxes, bubble wrap, packing tape and other packing essentials are available in our main office for purchase.
Tenant Insurance options are available to provide further peace of mind and to help get you on your way to making More Space for More Play.
Bed, King Size
approximately 70 cubic feet
Bed, Double Size
approximately 55 cubic feet
Bed, Single
approximately 40 cubic feet
Bed, Bunk (set of 2)
approximately 70 cubic feet
Dresser, Chest of Drawers
approximately 30 cubic feet
Cedar Chest
approximately 15 cubic feet
Ironing Board
approximately 10 cubic feet
Side Tables
approximately 10 cubic feet
Wardrobe Boxes (30 hangers)
approximately 10 cubic feet
Mirror
approximately 10 cubic feet
Size Suggestion
To receive a size suggestion, select the items you wish to store.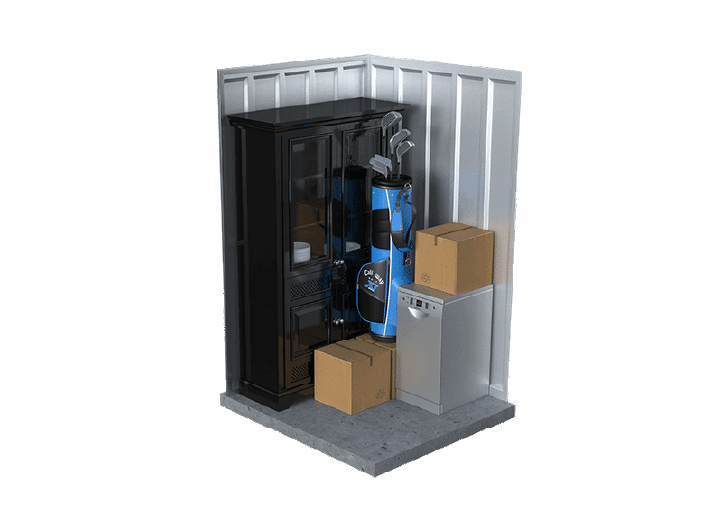 Everything you would expect from a premium facility for reasonable prices
Let us take the worry out of storing your valued possessions
Our customers are the most valuable piece of our business, we are here to serve